Ciao,


November 2020
The Book of Two Ways by Jodi Picoult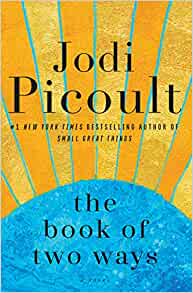 Crownstar Rating:
Read through our CROWNSTAR rating system here.
---
Brief explanation of rating
Just...WOW. This is a beautiful exploration of life and death and what it means to truly walk the path you choose for yourself. I have NEVER earmarked so many passages to refer back to in one book as I did with this one. Every few pages delivered mind-altering thoughts about life, death, and our ability to choose. The research on Ancient Egypt is stunning in it's depth, and the connection Picoult makes between that story, and the current-day story about the life of the main character is effortlessly done. Your book club WILL have a field day with this discussion!
---
Discussion Questions
1. In your opinion, what choice does Dawn make in the end? Why did the author leave this decision up to the reader and not give a definitive answer?

2. Had you ever heard of a Death Doula before reading this book? What do you think about Dawn's job? Would you hire one for yourself?

3. On it's deepest level, this is a love story. On page 67 the author writes, "I once read that every story is a love story. Love of a person, a country, a way of life. Which means, of course, that all tragedies are about losing what you love." Discuss.

4. Win says ""women don't get to have midlife crises where they run off to find themselves" which spurs Dawn on to think, "Men leave their wives and children behind every day, and no one is shocked...It's as if that Y chromosome they hold entitles them to self-discovery, to reinvention." What do you think about this idea?

5. Which storyline intrigued you more -- Water/Boston or Land/Egypt? Why?
---
Something Interesting...
Picoult's son was majoring in Egyptology at Yale, and mentioned "The Book of Two Ways." Her response, "that's a great title for a novel."

Once she learned more about what it was, she knew she had to write about it. Picoult says "she learned that the mystical text was all about choices: The deceased could take either a land route or a water route to get to the field of offerings, which is the ancient Egyptian version of heaven. No matter which path you took, you wound up where you were supposed to be."

Eventually, she would visit Egypt with her son's thesis advisor, a renowned Egyptologist, who helped teach her the volumes of information she incorporated into this book, as well as spending much time immersing herself in the world of the death doula.
---
Need a refresher on who we are?
Interested in deeper information about a book title of your choosing?
---
Until next time, happy reading!
Desiree, aka Queenie D
---
If you have trouble viewing this newsletter, set up your email options to "always allow images from this address."