Ciao,


May 2021
---
---
Pulse of My Heart by JP O'Donnell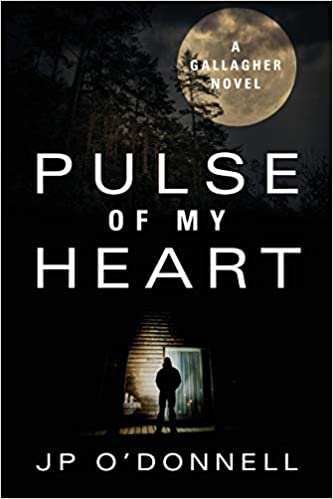 Buy Pulse of My Heart on Amazon



---
Crownstar Rating:

Read through our CROWNSTAR rating system here.

---
Brief explanation of rating
Gallagher is back for another adventure, and this time, it's really personal. This character's no-nonsense, immediate-action personality keeps you turning the pages from start to finish. Fast-paced mystery with a romantic side, this book is a great quick read for PI fans!
---
Author Interview - JP O'Donnell
Queenie D had the privilege of talking with JP about his most recent novel. We hope you enjoy!



Q: Tell us about Gallagher. How did his character come to life? Are we going to continue seeing him?

A: During my professional career (pediatric dentist) in the Boston area, I was part of a six-man real estate partnership that designed and built a medical building. We always had a great relationship, but after twenty years together, several partners were getting up in age and preferred to sell the remaining shared assets. For fun, I decided to write a novella about six professional men that get involved in a deadly mystery involving their real estate dealings. My partners got a huge "kick" out of this little project and provided lots of encouragement. However, once I got started, the novella seemed to take on a life of its own and I ended up writing a 326-page novel, Fatal Gamble.



Q: What inspires the plot of your Gallagher novels? Do you have a specific way you come up with each mystery?

A: My main character is a private detective, Daniel Cormac Gallagher, who simply goes by the name, "Gallagher." Gallagher is a dogged investigator with a rare combination of cunning and skills. In simple terms, Gallagher is the man that every guy wants to be, and also the man that every woman wants to be with. As he unravels the mystery in the story, he becomes entangled in a web of danger and political intrigue that lead to a dramatic conclusion.

I was really surprised at the reception of Fatal Gamble. As a self-published first-time author, I had no lofty expectations. But the reviews were overwhelmingly positive and I was inspired to write a sequel.

I spoke to a book club in Boston one evening. One of the women stood up and asked, "What type of book do you think you wrote?

Of course, I answered, "A mystery novel."

She shook her head. "No, you wrote a love story," she said. "The driving force to turn the pages is the love story between Gallagher and Kate."

Her response resonated with me and made me realize that the sequel to Fatal Gamble had to be another mystery that has a backstory focusing on the relationship between Gallagher and his love interest, Kate.

With that thought in mind, I wrote Deadly Codes: A Gallagher Novel. In this book, Gallagher is hired to investigate a deadly car-bombing and the mysterious disappearance of the victim's lover. As the violent mystery unfolds, Kate is drawn into the danger as she and Gallagher find themselves under attack from two shocking, but powerful forces—one he knows and one he never expects.

As in all three Gallagher books, I start writing by establishing where I want the story to begin and where I want it to end. I often write the complete first chapter and the complete last chapter before I even establish an outline of the story. Then I simply "connect the dots" as I write to get to that last chapter.



Tell us about the movie Bent and how Gallagher came to be the star?

A: Deadly Codes eventually garnered the attention of Bobby Moresco who won the Oscar for screenwriting for Crash, Best Picture 2004. Bobby adapted the story in Deadly Codes for the feature motion picture, Bent (2018) that starred Karl Urban, Sofia Vergara and Andy Garcia.

Needless to say, it was a thrill for me to be on the set during filming and see the characters I had created come to life on the screen. Karl Urban asked me if he was playing Gallagher the way I had envisioned him. I responded by saying he not only played the role as I had envisioned, but he was the embodiment of Gallagher.

Many of my readers, however, felt like the ending of Deadly Codes (and the ending of the film as well) left them "hanging" and begged me to write a sequel. So, Pulse of My Heart: A Gallagher Novel became my next project.

Again, the romantic relationship between Gallagher and Kate is the critical component of the story. In Pulse, Kate's shocking disappearance launches Gallagher on a desperate search to find her. Along the way, he discovers a secret in Kate's past—one she has never revealed to him. Gallagher's search and the danger he encounters combine to create the most thrilling, edge-of-your-seat novel in the Gallagher trilogy. Perhaps even better, the dramatic conclusion has a twist no one sees coming.





Q: In your Acknowledgments you said: "to my friends, family, and acquaintances who allowed me to use their names as characters. Remember...this is fiction! Don't take it personally if you ended up as a bad guy." There must be a story behind this -- tell us more!

A: Some writers invent or make up names for the characters in their books. Others read the obituaries for ideas. I like to use the names of my friends, family members and colleagues. And, at times, I use these names for some of the villains in my books. Without exception, these folks love it! In fact, I often get the request, "Please use my name for a "bad guy" in your next book." I always remind them, "Remember … this is fiction. Don't take it personally."



Q: What are you working on now?



A: I am very excited about my two current projects. The first, No Wrong Turn: Living on the Fringe of the Mob, is the true-life story of a man who was connected to the Mob in New York for his entire life. Although he never did anything illegal or became part of their criminal enterprise, he remained friends with these individuals from childhood through his later life. As such, he did "favors" for them and gained intimate knowledge about their control over business, politics and everyday life in America. His experiences are nothing short of fascinating. The manuscript is currently being reviewed for a possible miniseries, and I expect to publish it in the Fall of this year.

My second project, Run for My Life, is the memoir of a man who defected from Communist-occupied Czechoslovakia in 1964 when he was sixteen years old. His escape, while under the control of two armed KGB guards, and the events leading up to and following it, provides a compelling, hair-raising adventure that becomes true testament to the strength of the human spirit and the thirst for freedom. I expect to publish this book before the end of 2021.




---
Learn more about JP:
---
Discussion Questions
1. Were you expecting the "bad guy?" (no spoilers given here!) Why or why not? Did you suspect someone different at any time?

2. Were you rooting for Gallagher and Kate?

3. What character trait about Gallagher is most memorable to you and why?
---
Something Interesting...
The feature length motion picture, Bent (2018), is based on characters created by JP O'Donnell in the Gallagher novels. Bent stars Karl Urban as Gallagher, with Sofia Vergara as Rebecca, and Andy Garcia and Grace Byers in supporting roles. Bobby Moresco, Academy Award for Crash, is the screenwriter and director of Bent.

---

---
Don't Miss Out!
Book features PLUS author interviews! 1-2 authors talking directly with Queenie D about their books! You must be subscribed to this free newsletter in order to receive these monthly features. Do so here: trBCQ Book Clubbers Newsletter.
---
Need a refresher on who we are?
Interested in deeper information about a book title of your choosing?
---
Until next time, happy reading!
Desiree, aka Queenie D
---
If you have trouble viewing this newsletter, set up your email options to "always allow images from this address."