Ciao,



If you have trouble viewing this newsletter, set up your email options to "always allow images from this address."
---

---
We are pleased to bring you BCQ's own series, Life Between My Pages!

This series will feature a selected author each month who will share with you their personal story about how they got to where they are today.

Prepare to be completely WOWED by these writers! You've read their books, fallen in love with their style, now learn about their journey.

Each month, when the newsletter shows up in your inbox, look for the featured author's name in the subject line. Some authors you will immediately recognize, some you will not. We can assure you that every single author invited to participate will tell a story you won't want to miss!
---
August 2010:
Brian Antoni
---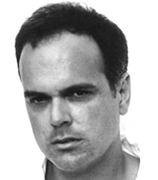 Stumbling Into Writing
By Brian Antoni
I never wanted to be a writer. It was not one of my dreams. I grew up in Freeport, Bahamas. When my family moved there, the population was only a few hundred. My father was the first doctor. He treated many of the natives for free. He was paid in fish and lobster and even treasure-- silver pieces of eight. My Grandfather moved from Trinidad and built the electrical company for part of the island. I had an idyllic childhood of fun and sun. When your Dad brings medicine and your Grandfather brings electricity to a place, people treat you nicely. We had no television. Instead everyone told stories. The natives, my extended family and friends were always gathered, telling stories. My brother, Robert Antoni, even published a book called My Grandmother's Erotic Folktales, which were basically my Grandmother Mina's stories. Maybe being surrounded by storytellers is why I stumbled on writing.
I went to grade school in Freeport. My brother and sister and I all failed second grade because we couldn't learn to read and write. We were all dyslexic. The missionary nuns that ran the school told my parents we were dumb. My brother has gone on to publish six novels. His first novel won the Commonwealth Prize. My sister, Janine Antoni, has gone on to be a world famous artist. She won a MacArthur Genius award. So kids, don't listen to people when they tell you that you are stupid.
After grade school, I boarded at Pine Crest high School in Ft. Lauderdale and then went to Emory University and studied history. I then went to Georgetown law school. After Georgetown, I had no idea what to do. I went to law school so my parents would love me. There was really nothing I could do to make them not love me. After passing the Florida Bar, I just got a backpack and started traveling around the world. I tried to swallow the entire world. I spent three years traveling, visiting over a hundred countries. I have a trust fund. I never have to work. I am totally spoiled. I do not take this freedom for granted for one second.
I returned to the Bahamas for the holidays. Freeport had transformed over the years from a little fishing village to the Kmart of the Caribbean. From a population of a couple hundred, it had grown to over thirty thousand. It had also become a huge cocaine smuggling island. All my friends were involved. The fishermen were wearing Gold Rolex watches and their skiffs were now Cigarette speed boats. At first the money seemed good for the people but then drug wars took over and crime ran rampant. My friends were shot to death. Some disappeared off the face of the earth. Women were raped on the beach in front of our house. The whole social fabric of the community I grew up in was shredded by drugs. I tried to make sense of this. I remember one night, after a party at my house, I found a baggie full of coke on the floor. I remember, I started snorting and snorting. I snorted so much I couldn't sleep. Kids, don't try this at home. I picked up a pen and started writing. I wrote about Freeport, my town, trying to make sense of what had happened, how it transformed.. I wrote all night and all the next day. It was the first time I ever wrote fiction. I wrote what were to become the first six chapters of my first novel, Paradise Overdose, which was published by Simon and Schuster.
I moved to New York and started hanging out. I took some writing courses at NYU and the professors really encouraged me with Paradise Overdose. I started hanging out with George Plimpton and Jay McInerney. They both encouraged me. I just wrote when I felt like it. My brother gave Paradise Overdose to his agent at I.C.M. and she said she would look at it but she was to busy to take on new clients. She said she would get back to him in a few weeks to tell him what she thought. She called me a day later and told me she could not put the book down and wanted to represent it. She worked with me for a year. She was my knight in shining armor. She finally thought it was good enough to submit and she got two offers the fist week it went out.
After Paradise Overdose, I stopped writing fiction. I started writing for magazines. I started writing about travel. I was amazed that people would pay me to travel. It was like giving crack to a crack addict. I went to another hundred countries. Twenty years ago, on my travels, I stumbled on a funky beach community called South Beach. I had always dreamed of putting a piece of downtown New York City on a beach. At the time South Beach was an eclectic mix of elderly Jews and marielito Cuban refugees and a small group of hipsters. The hipsters were trying to save the incredible art deco buildings which the developers were trying to destroy. I bought a couple small deco buildings and rehabbed them. South Beach went crazy in those years, from slum to brand name, from God's Waiting Room to America's Rivera. I bought a house in the middle of the deco district which I christened "Chateaubrian." I filled it up with a lot of thrift shop finds and started hosting parties, many related to writing and many for charity. I loved making what I called a people stew. I would mix the neighborhood folk, Cuban refugees, drag queens, senior citizens and celebrity guests (Timothy Leary, Tommy Tune, Bianca Jaeger, Bernadette Peters, Zaha Hadid, Ansel Keiffer, Brette Easton Ellis, Oliver Stone, Betty Friedan, Kurt Vonnegut, Derek Walcott, Gianni Versace, John Berent, Calvin Trillian, Mario Batali, Joey Arias, Ellen Barkin, Marissa Tome). My home became featured in many magazines, television shows and table-top books. I became the editor-at-large of the Miami Herald Home and Design magazine. I became a host on "The Juice," a T.V.. show on Plum Television. I remember about fifteen years ago, going to a local Cuban restaurant, Puerto Sagua, and sitting at the lunch counter and I noticed all the hippest young people and the old Jewish retirees, and they were wearing the same style of clothing. The young people were buying the old peoples clothes from the thrift shops. Both groups had come to Miami to die, the old people and the young people. It was the time when people with Aids would sell off their insurance and then come to South Beach to party until they died. All these strange beautiful families were forming in these old Deco buildings that the developers were trying to destroy so they could build high rises and the old people were taking care of the young people and the young people were taking care of the old people. I remember watching my mom sit for hours holding the hand of George, a new family friend as he died of AIDS. In his dementia, he thought my mother was his mother. His family disowned him when they discovered he was gay and had AIDS. I remember going out that night to try to forget the pain. I went to a party at Chris Blackwell's apartment in the Marlin Hotel. I was really wasted and Madonna walked in with a friend and they walked up to me and my friend and asked us where they should go to party. It was so surreal. Madonna had just bought a house in Miami. At that time she was like the incarnation of fame itself. It was that night that I started writing South Beach, The Novel. George Plimpton and his wife visited me a lot in South Beach. George would tell me over and over, "Sport, you have to get this down, you have to write about your life here. Someone has to get this scene down." I started writing again to try to make sense of the place: the fame, the money, the drugs, the death, the decadence, the love, the caring, the beautiful alternative families forming. South Beach went from a Cracker Jack box of people who had no place else to go to a floating menagerie of people who could go anywhere.
It took me the next decade and a half to finish South Beach, The Novel. It became an obsession. I went out every night with a pad in my pocket. I went to Cuba to do research. I worked as a doorman at clubs and rented my house out to modeling shoots, all in the hope of making the novel "real." When I finished it I gave it to my agent. She told me she loved it and was proud of me. She arranged for me to pay an editor to work on it with me. I worked with the editor for six months and gave it back to my agent. She told me she had had serious problems in her life and could no longer identify with my material and that she was too old for me. She was ten years younger then me. This devastated me. In the next year, I sent it to about twenty agents that I had some sort of personal contact with. They all turned it down. One guy, when I called him told me, "Of course I know who you are Brian, your whole family is a legend." He never even got back to me after I sent him the novel. I wonder how he treats people who are not legends. I noticed a disturbing trend in the book business. Agents don't even bother to get back to you. They don't even bother to write rejection letters. Anyway I was about to give up when I was able to get it to Morgan Entrekin at Grove/Atlantic. He had published the paperback of Paradise Overdose. He read it and loved it and published it. So kids, don't listen to agents that tell you your books are not publishable. After South Beach, The Novel got a rave review in the New York Times, I received letters from ten agents that wanted to represent me, even a couple of them that rejected me originally.
I have now stopped writing again. I don't really have a story to tell at the moment. I have been going to New Orleans a lot since Katrina. I love writing about places in flux and New Orleans post Katrina seems to be one of those places. I know there is a story there for me. I just haven't found it yet.
---
Brian Antoni is the best-selling author of the novel, Paradise Overdose, as well as a contributor to the novel, Naked Came the Manatee--along with such South Florida notables as Carl Hiaasen, Dave Barry and Elmore Leonard. His latest book, South Beach, The Novel, has been hailed by the New York Times Book Review as "a candy-colored and warm-hearted work of fiction." N.P.R noted that "the complicated plot of this romantic melodrama and larger-than-life characters allowed me to float like a voyeur through South Beach's antique decadence."

Brian, who has been called "the unofficial mayor of South Beach" by Jay McInerney in Portfolio Magazine, has been one of the movers and shakers of the South Beach scene. Brian is a host on Plum Television's "The Juice," is a contributing editor to Ocean Drive Magazine, has served as Editor-at Large for the Miami Herald's Design Magazine, editor for the Miami Scene for Paper magazine, and has covered parties for InStyle magazine.

Learn more about Brian at BrianAntoni.com.
---
---
WANTED: One detail-oriented copy editor to proof various pages for Book Club Queen. Contact info@therealbookclubqueen.com if interested.
---
Have a friend who would enjoy Book Clubbers?
We would be honored for you to share our newsletter with any book lover you know!
Are you reading this on a recommendation?
If you like what you see, come sign up with us! It's quick, easy, and free!