Ciao,



If you have trouble viewing this newsletter, set up your email options to "always allow images from this address."
---

---
We are pleased to bring you BCQ's own series, Life Between My Pages!

This series will feature a selected author each month who will share with you their personal story about how they got to where they are today.

Prepare to be completely WOWED by these writers! You've read their books, fallen in love with their style, now learn about their journey.

Each month, when the newsletter shows up in your inbox, look for the featured author's name in the subject line. Some authors you will immediately recognize, some you will not. We can assure you that every single author invited to participate will tell a story you won't want to miss!
---
April 2010:
Jennie Nash
---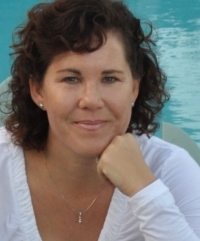 Writing Revelations From The Threadbare Heart
By Jennie Nash
I became a writer in fourth grade when my poems were bound into a book with a cardboard cover. I loved the whole idea of writing, the process of it, and that magical moment when I saw my name printed above my words in purple mimeographed ink. At the time, I thought I had the whole thing down. I didn't imagine how much there was to learn about writing, how much room there was to grow. Now I know better – and it's one of the things that makes writing so much fun for me.
I think my novel, The Threadbare Heart, which is coming out in May 2010, is the best thing I've ever written. I love all my other books, of course – my first book, and the memoir I wrote in the middle of breast cancer, and my first novel – but I pushed myself in several ways during the creation of The Threadbare Heart, and it feels good to have stretched, and challenged myself. In one instance, it was my editor who challenged me, but still: I did things I wasn't sure I could do. I thought I'd share a few of them with you because they show quite clearly that writing a novel is by no means a straightforward process, but a crazy, convoluted, unconscious act of creation.
1. I wrote a character who has boys. This was huge for me. The characters in my novels up until this point have all had girl children – and each of them has only had one girl child. I happen to have two teenage girls myself, and they tease me about how I can't give a character more than one kid and how I can't give them boys. Like all teasing, there was some truth to what they were saying. I was terrified of juggling too many characters—all those family dynamics, all those relationships. I was also scared of boys – as if all my time on earth hasn't taught me a thing or two about the species, as if there's such a vast difference between being a boy and being a girl, as if we're not just all human. You can see where this is going. My kids challenged me, and I accepted. I wrote a character who has two boys. It was part of the reason, I think, that the narrative for The Threadbare Heart cracked open the way it did. All those characters were like open doors to the story.
2. I wrote a lot of pages. I tend to end things too quickly – scenes, chapters, books. I often get reader comments saying, "I read your book in one sitting," or "I read your book in one gulp." That's good, on the one hand – good for a day at the beach, an airplane ride, a vacation – but it also bugs me. As a reader, I love that feeling of really believing you're living in a fictional world, and I think a necessary part of that experience is length. You can't fall into a world that ends in two hours. About a month before the manuscript for The Threadbare Heart was due, my editor said, "I'd like you to add a hundred pages." I had no idea what she was talking about -- she wanted a hundred pages after the end of the book? That made no sense. The book definitely ends where it ends. "No," she explained, "A hundred pages throughout. I kept wanting scenes to go on longer, and chapters, and I think you can do it." I adore this woman. This is the third book we've worked on, and she knows me better than I know myself. So I took a deep breath and said, "Okay," and I told my family I wouldn't be making dinner or doing laundry for the next four weeks, and I buckled down and did it. I identified every place where I felt I had stopped short, every page where I could write more, and in four weeks, I wrote a hundred new pages. They ended up being some of my favorite parts of the story – small moments, wonderful conversations, little details that added such a richness to what was going on. I remember when I was finished with that rewrite feeling a great sense of relief – not that it was over, but that the book hadn't gone out the way I had originally intended.
3. I killed off a character I love. I have had other characters die in my fiction, but never one that I really love. This death was inspired, in large part, by the same editor who made me write the hundred extra pages. Very early on, she told me to stop being so nice to my characters, so I made a list of ways they could behave badly, and ways they could suffer. Dying was at the top of the list. I don't want to say too much about it and spoil the experience of the book for anyone who may want to go read it, but I have to say that it was exhilarating to have to face this fictional pain, and live through this fictional death. Death is out there for each of us, and one of the gifts of fiction is that it allows us to think about it, and confront it and turn it over in our minds before death actually comes. This is as true for the writer as it is for the reader. I was proud of myself for going to that dark place – and I think the book is much, much better for it, too.
---
Jennie Nash is the author of the novels The Last Beach Bungalow, The Only True Genius in the Family, The Threadbare Heart, and the memoir The Victoria's Secret Catalog Never Stops Coming and Other Lessons I Learned From Breast Cancer.
She is an instructor in the UCLA Extension Writing Program, and lives with her husband and two teenage daughters in Los Angeles, CA.
Visit her – and read the first chapter of The Threadbare Heart -- at www.JennieNash.com
---
---
Please visit BCQ's Discussion Board for great conversation with other reading enthusiasts and acclaimed authors!
---
Have a friend who would enjoy Book Clubbers?
We would be honored for you to share our newsletter with any book lover you know!
Are you reading this on a recommendation?
If you like what you see, come sign up with us! It's quick, easy, and free!