Ciao,



If you have trouble viewing this newsletter, set up your email options to "always allow images from this address."
---

---
We are pleased to bring you BCQ's own series, Life Between My Pages!

This series will feature a selected author each month who will share with you their personal story about how they got to where they are today.

Prepare to be completely WOWED by these writers! You've read their books, fallen in love with their style, now learn about their journey.

Each month, when the newsletter shows up in your inbox, look for the featured author's name in the subject line. Some authors you will immediately recognize, some you will not. We can assure you that every single author invited to participate will tell a story you won't want to miss!
---
March 2011:
Joy DeKok
---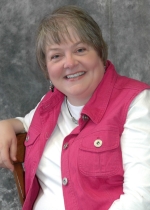 Believe
By Joy DeKok
As a little girl, I found words fascinating. I loved the way they sounded, the feel of them on my tongue, and the way they looked on the pages. Words took me to different places and introduced me to all kinds of people and creatures. I could hardly wait to write my own words.
Everything around me had story potential; an old house, a fancy lamp on my grandma's table, or the life story of a girl on a pink Schwin - me. In my world dogs could talk, frogs could be wiser than owls, and stars weren't only for wishing on - they were where the fairies lived in beautiful and intricate communities.
In grade school, I discovered poetry. The new medium allowed me to put dreams, anger, injustice, and all kinds of teen angst on the page. With the fervor of youth, I put it all on the pages. In high school I was told it was a waste of my life. I burned hundreds of poems and story ideas in the metal wastebasket in my bedroom. I watched hours of heart and soul translated into words become ash.
Jon and I had been married for about ten years when he handed me two writing magazines and said, "Joy, quit your job and follow your dreams." In a fit of rage ignited by old hurts I threw the magazines on the floor and shouted, "I can't! I have no talent!" Jon picked up the publications and handed them back to me and again said, "Joy, please quit your job and follow your dreams."
The next day a man delivered a brand new desk and a word processor to our door. My first document was my job resignation. I decided to learn all I could, write a lot, and let Jon believe in me when I could not believe in myself.
After dozens of rejections, acceptances for magazine articles started to happen. I wanted to write children's books, but at a writer's conference an editor asked for bird stories. I sent her a few and they were the beginning of Under His Wings, a devotional of my up-close-and-personal bird experiences. After selling 25,000 copies, it was taken out of print by the publisher. Last year it was re-released by Sheaf House Publishers.
I was cleaning house one day and an idea sauntered across my mind. What about a novel where one woman can't have children and the other chooses abortion? Can they become friends? I resisted writing because the story is so close to home. I'm unable to have children and have several friends with abortions in their pasts. I knew I was going to have put my pain and theirs all over the pages. Jonica and Stacie became my constant companions and I finally gave in and told their story. I thought perhaps I'd get a few rejections and file it away forever. When those letters came and I was preparing the manuscript for the cabinet in the basement, Jon reminded me of the letters I had received from two large publishing houses and two trusted literary agents who had all encouraged me to self publish the book. Then, he again believed in me when I could not and handed me a check. I listened and then an editor read the self-published version. Rain Dance was re-published traditionally in 2009 with Sheaf House Publishers.
I also have the great joy of having three childrenís books in print as well. It Is Good, Room for Bandit, and my latest release, Raccoon Tales. I have a fabulous illustrator and we just did a DVD of the book using her art and my voice. I chose the self-publishing route for these books and it has been an excellent decision.
Since then, I've started a new writing-focused business. After receiving my life coaching certification, I began coaching authors. Author Infusion is my way of passing on Jonís greatest gift to me - I believe in my clients before they can believe in themselves. I'm also working on a new non-fiction book titled, Your Life a Legacy. I've been teaching this topic for the last fifteen years and the response from listeners has shown me the value in putting it in print with some DVD instruction. Thereís also a novel in the works.
Now and then I also write poetry - my third children's book is written in rhyme. Oh - and I don't believe the lie anymore. I not only can be a writer - it's my lifeís purpose.
---
Joy DeKok is the author of the novel Rain Dance. She tackled the controversial topic of abortion with compassion. Under His Wings is about her personal experiences with birds and the lessons they taught her about faith. It Is Good tells children the creation story from their world. Room for Bandit is about a big black dog who finds a home on Christmas Eve and a little girl who finds much more. Her most recent release is also a children's book. Raccoon Tales chronicles the lives of five orphaned baby raccoons from their rescue to their release.

Joy is also a national speaker and certified author coach. She enjoys helping people get their stories written, published, and marketed. She believes until they can.

Learn more about Joy at JoyDeKok.com.

Check out her author coaching site at AuthorInfusion.com.
---
---
Read BCQ's review of Rain Dance.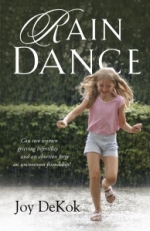 ---
---
Have a friend who would enjoy Book Clubbers?
We would be honored for you to share our newsletter with any book lover you know!
Are you reading this on a recommendation?
If you like what you see, come sign up with us! It's quick, easy, and free!