Ciao,



If you have trouble viewing this newsletter, set up your email options to "always allow images from this address."
---

We are pleased to bring you BCQ's own series, Life Between My Pages!

This series will feature a selected author each month who will share with you their personal story about how they got to where they are today.

Prepare to be completely WOWED by these writers! You've read their books, fallen in love with their style, now learn about their journey.

Each month, when the newsletter shows up in your inbox, look for the featured author's name in the subject line. Some authors you will immediately recognize, some you will not. We can assure you that every single author invited to participate will tell a story you won't want to miss!
---
---
November 2011:
Melissa Foster
---
My Passion For Pages
By Melissa Foster
Writing fills me with joy. Itís that simple.
I've always been a little different than others. I follow my own path, even when it's risky or scary. I'm the mom that drags her kids into rain puddles to dance, and allows ice cream for breakfast while we're on vacation. We stay up too late reading and laugh about how tired we are. Life is to be enjoyed, and I believe you should love your work as much as the rest of your life. My husband, Les, and I created our lives in the direction we desired, with support from each other.
I remember when Les and I decided that I would give up my day job and work from home. It was right after I became pregnant with our fifth child, and with a blended family, we felt it was important to have one parent present 24/7. We scaled back life, made simple adjustments, and voila -- our lives instantly changed.
The goal, from the time we were married, was that one day our lives would work in such a way that it would allow me to write full time. I kept my eye on the prize. I counted down, "Seven more years, five more years, two years and seven days, etc." During that time of baby care, sporting events for four, and wicked fatigue, I took notes on what I wanted to eventually write. I craved the writing process, taking brief respites to jot down the beginning of a story, or a scene, written on a grocery bag, but with six kids, you don't get much down time.
The day our sixth child went to Kindergarten, I sat at my keyboard and I have never looked back. I'm surprised each day at how much I love writing. Writing fills my need to constantly conquer something new, to help people (my characters), and to use the creative side of my brain. I'm lucky. I love my career.
After publishing Megan's Way, I laid low while reviews flowed in. I was worried about how my writing would be received. I'm overwhelmed on a daily basis with gratitude for readers who enjoy my work, share it with others, and take the time to review it. The kindness from readers is inspiring. My second book, Chasing Amanda, was picked up by Solstice Publishing 24 hours after submission, and has also landed me an agent-the illustrious Jenny Bent. Come Back to Me, my third book, was born from an idea I had while running, the year before Les was to spend 6 months in Iraq. Come Back to Me releases November 1st, and I'll feel naked once again when that book reaches the public's hands. Will you throw tomatoes or whistle? I'm hoping for the whistle.
My days are spent happily plugging away at the keyboard. My nights are spent surrounded by family that supports and adores me, and my contact with readers has become constant and is thoroughly enjoyable. Life is good, and I thank you for sharing it with me.
Thank you, Desiree, for having me here on the Book Club Queen.
---
Melissa Foster is the author of Megan's Way (ASIN: B002LISR7C), Chasing Amanda (ASIN: B004WF5202), and Come Back to Me (ISBN: 978-0-9847165-0-0).

To learn more about Melissa and her books, visit her site -- MelissaFoster.com.
---
---
Read BCQ's review of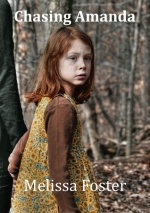 ---
---
Have a friend who would enjoy Book Clubbers?
We would be honored for you to share our newsletter with any book lover you know!
Are you reading this on a recommendation?
If you like what you see, come sign up with us! It's quick, easy, and free!