Ciao,



If you have trouble viewing this newsletter, set up your email options to "always allow images from this address."
---

---
We are pleased to bring you BCQ's own series, Life Between My Pages!

This series will feature a selected author each month who will share with you their personal story about how they got to where they are today.

Prepare to be completely WOWED by these writers! You've read their books, fallen in love with their style, now learn about their journey.

Each month, when the newsletter shows up in your inbox, look for the featured author's name in the subject line. Some authors you will immediately recognize, some you will not. We can assure you that every single author invited to participate will tell a story you won't want to miss!
---
June 2011:
M.J. Rose
---
Every novelist gets asked, "At what point did you realize you wanted to be a novelist?"
By M.J. Rose
It seems I've answered this question different ways at different times which makes me think I don't really know.
The first book I remember loving was The Secret Garden, written by Frances Hodgson Burnett. It was the first mystery I'd ever heard read to me and it opened up a floodgate of questions.
Why was the garden locked? Why wasn't the lord of the manor ever home? What was the very secret hinted at in the title?
My mother had been reading The Secret Garden to me one night when I stopped her and asked her if we could go to see the garden in the book the next day.
She explained it was made up.
Even though I knew about make believe at that point, I'd never before connected the concept to books. I was enthralled.
My mother later told me that I declared that night that when I grew up I was going to write books about discovering a secret garden.
But I also wanted to be a painter. I loved going to museums, looking at paintings. I loved colors.
Growing up I did both. Paint and write. Write and paint. (You get to do that as a kid).
When it was time to go to college - art won out.
I majored in printmaking and painting - and around the middle of my sophomore year, I found out what a truly bad artist I was. I switched my major to writing. (But I didn't stop painting).
The two are very different. Both in the creating and the absorbing. The intellectual versus physical. Philosophical versus cerebral.
Paintings, like music, move you without logic. Books require thinking, logic.
I love the movement of painting, the romance of the artist's life. I like museums better than bookstores, art supply stores more than computer stores. I can stare at colors for hours, mix blues and greens into each other for no other reason than seeing them bleed together like the ocean. I love the smell of paint, the sting of the turpentine in your nose, the overwhelming scent of the linseed oil, the feel of brushes, buying new brushes and running one down your cheek and feeling that smooth silky touch of the sable. I love touching thick rich watercolor paper with its tiny indentations where the color pools. And I lust after the idea that when you paint you can create something in an hour or an afternoon and look at all of it at once. See the whole. Take in all of it all at the same time.
As a writer. I think maybe I paint with words.
Many of my books wind up having to do with art. Which is true of the most recent novel The Hypnotist. (The hardcover came out last year, the trade paperback was just released).
An FBI agent, tormented by a death he wasn't able to prevent, a crime he's never been able to solve and a love he's never forgotten, discovers that his true conflict resides not in his past, but in a...Past Life.
Haunted by a twenty-year old murder of a beautiful young painter, Lucian Glass keeps his demons at bay through his fascinating work as a Special Agent with the FBI's Art Crime Team. Currently investigating a crazed art collector who has begun destroying prized masterworks, Glass is thrust into a bizarre hostage negotiation that takes him undercover at the Phoenix Foundation-dedicated to the science of past life study-where, in order to maintain his cover, he agrees to submit to the treatment of a hypnotist.
Under hypnosis, Glass travels from ancient Greece to 19th century Persia, while the case takes him from New York to Paris and the movie capital of world. These journeys will change his very understanding of reality, lead him to question his own sanity and land him at the center of perhaps the most audacious art heist in history: the theft of a 1,500 year old sculpture from the Metropolitan Museum of Art.
My most recent books include: The Reincarnationist, The Memorist and The Hypnotist. (The recent TV series Past Life was based on this series). All of them were starred PW books and made the Indie Next lists.
---
If you'd like to find out more about M.J. and her books, please visit MJRose.com.
---
---
Read BCQ's review of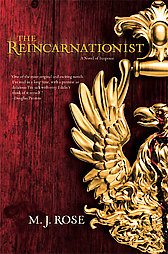 ---
---
Have a friend who would enjoy Book Clubbers?
We would be honored for you to share our newsletter with any book lover you know!
Are you reading this on a recommendation?
If you like what you see, come sign up with us! It's quick, easy, and free!