Ciao,



BCQ NEWSFLASH!!!
Queenie D welcomed BCQ's newest little princess into the family on January 2, 2011! Please forgive the newsletter delay as she has been busy settling in with her new girl!

If you have trouble viewing this newsletter, set up your email options to "always allow images from this address."
---

---
We are pleased to bring you BCQ's own series, Life Between My Pages!

This series will feature a selected author each month who will share with you their personal story about how they got to where they are today.

Prepare to be completely WOWED by these writers! You've read their books, fallen in love with their style, now learn about their journey.

Each month, when the newsletter shows up in your inbox, look for the featured author's name in the subject line. Some authors you will immediately recognize, some you will not. We can assure you that every single author invited to participate will tell a story you won't want to miss!
---
January 2011:
Patricia Harman
---
Write What You Know
By Patricia Harman
Do you ever feel you're a character in novel or maybe a movie? Does everyone have an internal narrative going like me, or only the writer? You know, something like this...
"Patricia Harman, author of two medical memoirs, settles herself in her study. White walls, white wrap around desk. A bulletin board with photos of kids and grandchildren and friends on the wall. She opens her white laptop and stares out the window at her white world, snow on the ground, snow in the air, snow lining every twig and branch of the bare trees..." This voice in my head has been going on as long as I can remember...since I was a child and even today; I'm the hero in my own work of non-fiction.
Though I've always found words to be friendly and easy to find, I didn't start writing seriously until I stopped delivering babies and my three kids left home. I was like any other working stiff, didn't have time. Sure, I'd get up in the still part of the deep night and write poetry or scribble by flashlight in my journals, but the idea of publishing a book never crossed my mind.
It was the women's stories that inspired me. The stories of great courage they told me in the privacy of the exam room, naked under their thin blue exam gowns. I was so impressed, I'd go home, and when I couldn't sleep, get up and write them down. Eventually, those stories, plus my own story became my first book, The Blue Cotton Gown: A Midwife's Memoir (Beacon Press 2008).
When I go on book tour, speak on college campuses or at book clubs, people ask..."So how did you do it?" (Get published they mean.) Well, writing was the fun part. The rest I call work.
The first thing I did, after I realized the women's stories were beginning to connect and could become a book, was...buy books on writing and publishing. This seemed only sensible. Since I was working in our women's health clinic forty hours a week, and writing a few hours a night, I didn't have time to take writing classes or join a writer's group.
What I learned from those scholarly books was "Write what you know." "Write as if you know who your audience is." "After you finish your manuscript and are looking for a publisher, start another book. That way you won't be sitting around moping as the rejection letters come in."
Next, I began to compose a query letter and fifty-page proposal, something you need with works of non-fiction, if you're trying to get an agent. I thought about self-publishing and still consider it a viable option, but I knew I had more than one book in me and thought it would be better if I could get a publisher the first time out. To find one in this modern world you need an agent, because most publishers won't even open a work that is self-submitted.
By this time my query letters were going out at the rate of five a week, but no response. Sometimes not even a postcard. Something must be wrong with the letter, I thought...
One of the best things I did was find an editor to help me with my query letter and book proposal. For a price, she helped me put together a better package and even suggested changes in the manuscript that would make it more marketable. This wasn't free, but as my husband said, it was cheaper than getting my MFA in creative writing.
Six months later, after mailing-out 80 query letters to agents I found at www.agentquery.com I got calls from two in one day. Never had I imagined TWO! One would be fine! I kid you not. I actually had to make a choice.
Three months later, I had an advance and a contract. The moral of the story? Write what you care about and make your mind up at the beginning that your book will get published! Don't give up. Otherwise, the rejections will kill you. Before my first book came out, I'd already, as advised, started my next. Early readers wanted to know more about this ex-hippie midwife and her husband, so I thought I would tell that story. Arms Open Wide: A Midwife's Journey (Beacon Press, April 2010) goes back to the hippie, homesteading, homebirth days, a chronicle of commitment, passion and change.
Some people write to escape the pain of their own lives. I write about that pain. What makes it bearable is that, in my writing there is always humor and always hope. What, in this war torn, climate challenged world is there to be hopeful about?
Well, there is goodness. Despite what we read in the headlines that horrifies us, there are still more good people than bad, people holding doors open for strangers and dropping coins in the Salvation Army bucket at Christmas. And there is bravery, people volunteering in Haiti despite the risk to their own lives...people who dare to tell the truth...And there is beauty.
"The writer looks out the window that runs the width of her study. It's Winter Solstice and she and her son and her husband will light candles tonight and say prayers for peace, for family, for love, for children, for the earth.
There was a full eclipse of the moon last night and the writer set her alarm and went out to see, but the clouds were too heavy. She stood on the porch in her bare feet on the cold bare boards and raised her hands to the sky anyway, a salute to the blood red orb that she couldn't see, something mysterious and far bigger than she was.
Now the sun comes out...a patch of blue sky, shadows on the snow."
---
Patricia Harman is a midwife, a mother and the wife of her medical partner, Tom Harman MD. She is the author of The Blue Cotton Gown: A Midwife's Memoir and the soon to published Arms Wide Open: A Midwife's Journey, out April 2010. She is working on her third book, Heart: Diary of an American Midwife, a novel, set in Appalachia in the 1930s.

Learn more about Patricia at PatriciaHarman.com.
---
---
Read BCQ's review of The Blue Cotton Gown.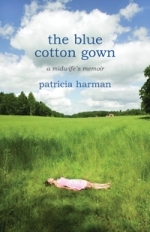 ---
Happy New Year!

BCQ hopes 2011 brings you the peace, love, and prosperity you deserve!
---
Have a friend who would enjoy Book Clubbers?
We would be honored for you to share our newsletter with any book lover you know!
Are you reading this on a recommendation?
If you like what you see, come sign up with us! It's quick, easy, and free!