Ciao,



If you have trouble viewing this newsletter, set up your email options to "always allow images from this address."
---

---
We are pleased to bring you BCQ's own series, Life Between My Pages!

This series will feature a selected author each month who will share with you their personal story about how they got to where they are today.

Prepare to be completely WOWED by these writers! You've read their books, fallen in love with their style, now learn about their journey.

Each month, when the newsletter shows up in your inbox, look for the featured author's name in the subject line. Some authors you will immediately recognize, some you will not. We can assure you that every single author invited to participate will tell a story you won't want to miss!

*NOTE* October 2010 Newsletter comes out on October 12, 2010. The November Newsletter will return to regularly scheduled date of November 1, 2010.
---
October 2010:
Paul McComas
---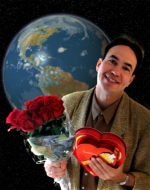 Tell A Tale -- 'Tall' or Otherwise
By Paul McComas
In 1966, when I was four years old and—largely under the tutelage of my big sister, Rachel—had just learned to read, Golden Books published Tell A Tall Tale, a (fittingly) tall, narrow, spiral-bound hardcover by Kent Salisbury and Adrina Zanazanian that's best described by its charming back-cover copy: "Does a caveman live in a castle? Does a princess ride on a pig? In this book, anything can happen. According to our computer, there are 279,936 funny mix-up stories in Tell A Tall Tale. You may want to try them all." By flipping different cardboard segments into different positions, you could, indeed, tell the illustrated story of a pig-riding princess, as well as "a bug-eyed Martian attending a grand ball" (in a lovely gown) and—a personal favorite—"a cowboy running on his giant reptile legs."
I still own the book (now out of print, but available online), and if the wear-marks are any indication, I did try all 279,936 variants. Appetite whetted, I then began writing stories of my own—most of them populated (initially, at least) by ferocious dinosaurs and/or animals imbued with speech.
By age 11, with several years of story-telling and (oft-undecipherable) writing under my belt, I transformed the basement of my family's suburban-Milwaukee home into a movie studio and began scripting and shooting short films: nearly 50 in all by the time I'd graduated high school. With titles like Godzilla Versus Mechani-Godzilla, Spaceslime!, and The Tale of Captain Shaw: A Loch Ness Adventure, these movies weren't exactly giving Welles or Kubrick a run for their money—yet making them taught me a great deal about narrative development.
At the same time, I began a four-year stint of writing, illustrating, and "publishing" a pair of 10- to 13-page 'zines: Lonny Jr., a mimeographed Lon Chaney Jr. fan rag that ran for 24 issues, and the carbon-copied Frightmonsters, which lasted for 14. As the founder and president of Macabre Publications, I welcomed into the fold three fellow monster-crazed boys, along with their own budding mags; at our peak, we four churned out five 'zines a month for a public consisting of, well, mostly each other. Horrific subject matter notwithstanding, I gained valuable practice at writing—and became one damned quick four-finger typist.
When I was 15, I mailed some of my sci-fi work to multi-genre master William F. Nolan, whose novel Logan's Run I adored...and whose encouraging reply letter gave me the confidence to tackle a bigger canvas. And so, during my junior and senior years of high school, further inspired by my Modern Lit teacher, Janet Martin, and the books to which she exposed my classmates and me (Lord of the Flies, Brave New World, etc.), I wrote a short psychological-sci-fi novel, Simon Says. Jan, bless her soul, read each chapter as I completed it and met with me after school, on her own time, to give me notes...straight through to the end. An (unpublished) novelist was born!
At Lawrence University in Appleton, WI (birthplace of Joe McCarthy—but also the town where Harry Houdini grew up, so it's kind of a wash), I studied fiction writing with novelist Mark Dintenfass (Old World, New World). No longer focused on sci-fi, I began tackling the human condition—at least, as I then knew it—through short works of contemporary, character-driven mainstream/literary fiction. (I didn't realize it at the time, but Mark wasn't just teaching me how to write; he was also teaching me how to teach writing—which I've now been doing, and greatly enjoying, for 13 years.)
After Lawrence, it was off to the film program at Northwestern University in Evanston, IL, where I learned a great deal about cinema...but also learned that I was, and am, truly a fiction writer at heart. Remaining in Evanston after receiving my Master's, I took a series of full-time writing jobs: composing descriptions of dental products ("This cuspidor is fully equipped with all of the instrumentation needed to provide today's practitioner with optimal blah, blah, blah"); editing a monthly newsletter about the mind/body link; working in PR for a medical school, and then for a VA hospital. All the while, I wrote short stories, sent them off to literary mags, accrued a most impressive collection of rejection letters...and, in time, garnered the occasional acceptance for publication.
During this same period (the mid-'80s to mid-'90s), I also became a minor fixture in the Chicago performance-art/-poetry scene, adapting many of my stories into monologues and (with the help of a local actress or three) two-person performance pieces. I've always enjoyed acting; beyond that, it has proven to be a great help in my writing career, because "the more venues, the merrier"—and because presentation counts. (It's also a great way to obtain direct, immediate, in-person feedback on new material.) In 2003, the Chicago Sun-Times wrote, "No one is giving in-store readings as lively as" mine. I think of this performance-based approach as "dressing up my work in its nicest suit." What's more, it's been great preparation for my side career with News and Views, a Chicago-area speakers' bureau.
It wasn't till my first book, a collection of 20 short stories with ambiguous endings called Twenty Questions (Daniel & Daniel, 1998; now in its third printing), had come out to good reviews that I gave myself permission, for the first time since high school, to tackle a novel. Unplugged (2002, John Daniel & Co.), the story of a troubled rock musician who "finds" herself—both literally and figuratively—in the South Dakota Badlands, collected several Book of the Year, Book of the Month, and Critic's Choice designations. It apparently threw out a pretty wide net; I'm fairly certain my debut novel is the only book in literary history to receive simultaneous raves from ROCKRGRL Magazine, Christian Century, Out in the Mountains (Vermont's LGBT paper), and The Lakota Journal (tribal newsweekly of the Lakota Sioux)!
After Unplugged (and its coast-to-coast, 50-stop book-store tour), I edited two short-fiction anthologies, First Person Imperfect (2003) and Further Persons Imperfect (2007), both from iUniverse, then authored Planet of the Dates (The Permanent Press, 2008), a comedic coming-of-age novel about a teenaged filmmaker in suburban Milwaukee circa 1980 who finds his sci-fi obsession eclipsed by a dire quest to connect with the opposite sex. ("Semi-autobiographical," anyone?) Another "critic's darling," Planet—my first hardcover—was optioned and is in development by producers Jason Koornick (Next) and Michael Henry (Years in Your Ears) as a feature film.
Walkabout Publishing recently invited me to assemble a collection of my genre work. I doubt I'll ever again experience the phenomenon of a publisher approaching me, rather than the other way around! At any rate, I gladly accepted, and next February will see the publication of Unforgettable: Harrowing Futures, Horrors, and (Dark) Humor, which will include not just recent short-form efforts, but also excerpts from the never-published Simon Says. Elsewhere in the "coming full circle" department: A dozen of my teenhood films—re-edited, with sound and some new footage added—have become a "cult" community-TV series called No-Budget Theatre, and several have won international and national awards. And I'm currently co-authoring Logan's Journey with William F. Nolan, to be published in conjunction with Warner Brothers' upcoming big-budget 3-D remake of Logan's Run.
And, you know what? Until Planet got optioned, I never had an agent. I'm here to tell you that you can have a career in fiction as a self-represented author, as long as you're not intent on grasping the "brass ring" of signing, right away, with one of the big publishing houses. Maybe I'll get there, in time...but frankly, I'm not worried. For, either way, my career is moving forward, my reviews have been glowing, and so far, I'm achieving my primary goal as an author: that no two of my books be alike.
Fiction is a paradox: it's the "lie" that enables one to tell greater truths. Why on earth, I sometimes wonder, would anyone write a memoir, thereby restricting him- or herself to what "really" happened? Narrative fiction is a synthesis of personal experience and imagination—truly, the best of both worlds, mixing together in unexpected ways to magically produce deeper-than-literal truths...and endless possibilities.
Possibilities. That's what Tell A Tall Tale was about; that's what all narrative is about; and that's what a life in fiction writing can and should be about, too. So, keep at it—and be open to where your characters (pig-riding princesses included!) take you. They are the best "agents" you'll ever have.
---
Paul McComas is the author of the comedic coming-of-age novel Planet of the Dates (The Permanent Press, 2008), optioned for a feature film; the recovery-themed "psychological nature novel" Unplugged (John Daniel & Co., 2002); and the short-story collection Twenty Questions (Daniel & Daniel, 1998), now in its third printing.

He is also the editor of the short-fiction anthologies First Person Imperfect (iUniverse, 2003) and Further Persons Imperfect (iUniverse, 2007). Paul's genre-fiction collection Unforgettable: Harrowing Futures, Horrors, and (Dark) Humor is forthcoming from Walkabout Publishing in 2011. He is currently co-authoring the novel Logan's Journey with William F. Nolan, bestselling author of the sci-fi classic Logan's Run.

Paul has won teaching awards at National-Louis and (in adult ed) Northwestern universities. Since 1987, he has performed his own work at 90 theaters, play festivals, and other venues nationwide. Several of his screenplays and short films have won international and national awards. Born and raised in Milwaukee, Paul lives in Evanston, IL, with wife and fellow fiction writer Heather McComas.

Learn more about Paul at PaulMcComas.com.
---
---
Read BCQ's review of Planet of the Dates.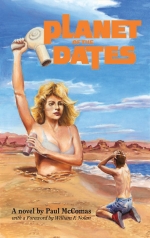 ---
Have a friend who would enjoy Book Clubbers?
We would be honored for you to share our newsletter with any book lover you know!
Are you reading this on a recommendation?
If you like what you see, come sign up with us! It's quick, easy, and free!