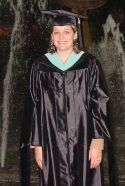 Hi! I'm Queenie D. The first thing you ought to know about the queenies is that I'm the creator of this website and co-queen of books along with Queenie B, my mom. I became the Book Club Queen a couple of years ago when I got sick and tired of trying to have interesting and fun discussions about books but ended up gossiping instead (not that I don't love a little gossip - just not at book club!) That's when I realized that a book club had to have rules. The first time I started a book club with rules my husband would walk around the house joking "the first rule of book club is...you don't talk about book club!" By now, with my current reading group, he actually gives me a slap on the hand if I try to discuss the book before the meeting with any of the other members! 
I started this site with a goal in mind - to create a book club recommendation list for both current popular reading titles as well as old favorites, in hopes of helping the book club members of the world choose great reads for their meetings. If you aren't in a book club and just want to hear some thoughts on a book you might want to read, this works for you too! 
So a little background on me. I am not only a lover of books but a lover of school as well! I have a degree in English and a Master's in Education and I've been teaching English for the past eight years, first in middle school, now in college . I fell in love with Green Eggs and Ham, then moved on to The Babysitters Club and Sweet Valley Twins at a very early age. From that point forward I became determined to "read every book in the world" as I used to tell my Grandfather. For a while in college I thought I was succeeding. Boy was I naive! But my goal remains. 
I moved home to Maryland with my husband in 2007 to have our first baby boy. Although life was good in Florida, we wanted to raise the baby around family so home we came! 
And when I say home, I literally mean home because we moved in with my parents so I could raise our son in his first year of life without putting him in daycare. Now that he's going on four, and our newest addition, a daughter is six months, I'm back to teaching and we've moved out on our own. We miss living with Grandma and PopPop but are glad to have our own space!
I've clicked through lots of book club sites over the past couple of years and always ended up feeling frustrated because they would rarely ever give a decent opinion about an actual book. I could possibly come up with some vague ideas but not a real voice, a real opinion from someone like me who had actually read the book. I didn't want to hear back of the book summaries, I wanted a juicy but solid judgment. Since I never really found that, I decided to make a book club recommendation list myself. 
As far as what type of reader I am, I would have to say I'm a lover of ALL books! I've only put three down in my life that I can think of without finishing them the first time around. Those were I Know This Much Is True by Wally Lamb (who I usually love!), Devil in the White City by Erik Larson (which I ended up reading a year later for my book club!), and Rich Dad, Poor Dad by Robert Kiyosaki. As you'll see if you like my reviews and decide to follow up with me, there aren't any specific reasons for not liking these books - they just didn't speak to me at the time. I truly believe that any book deserves a second chance and I fully plan to give them one at some time in my life! 
I won't lie - I choose fiction over nonfiction every time! (But I promise to try to maintain some balance on my book club recommendation list!).
I read to escape, to become part of the story. When I'm finished a book I'm TRULY sad because I feel as if the characters have become my friends. I just can't get into nonfiction that way but I will still read it if a subject grabs me. 
I'm looking forward to reading with you!