Great Book and Movie Combinations!

Are Books better than Movies? A book and movie combination can help you answer this question.

Movies are a great way to supplement a book club choice. 
Consider a book and movie combo if you aren't sure about what book you will choose when it's your turn, and you know you want to add some extra flair to your meeting. 
"We chose House of Sand and Fog as our book/movie combo and it was our best meeting yet!"
When you send out the invites to host your meeting you can add a footnote about planning to have the meeting run an extra hour or so. In order to fit everything in you can begin the book talk during dinner and then move onto the movie afterwards. It's a neat experience to have just finished reading a book, then talked about it, and then watch it's movie version as a group.
Some thought provoking questions for book to movie discussions:
Was the book or the movie better? Why? 

How similar were they? Did the movie closely or loosely follow the book? 

Did you like the actors chosen to play the main characters? Would you have chosen any differently if you were casting the movie? 

What major or minor event was left out that you thought needed to be included in the movie? 

Did the overall message or theme of the book stay the same from book to movie? 

Would the movie have been as good if you hadn't read the book?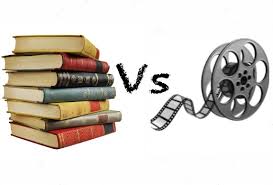 Here are some of my favorite movie based on book options. I won't spoil, but these lend themselves to interesting discussions based on the questions above.  Also note, date of movie release isn't a factor.  These combos are timeless, and always relevant to a book club discussion.
Combo 1
The House of Sand and Fog by Andre Dubus
Book Published: 1999 Movie Released: 2003
Combo 2
Fight Club by Chuck Palahniuk
Book Published: 1996 Movie Released: 1999
Combo 3
Midnight in the Garden of Good and Evil by John Berendt
Book Published: 1994 Movie Released: 1997
Combo 4
The Divine Secrets of the Ya-Ya Sisterhood by Rebecca Wells
Book Published: 1997 Movie Released: 2002
Combo 5
The Girl With a Pearl Earring by Tracy Chevalier
Book Published: 1999 Movie Released: 2003
Combo 6
Cold Mountain by Charles Frazier
Book Published: 1997 Movie Released: 2003
Combo 7
The Horse Whisperer by Nicholas Evans
Book Published: 1995 Movie Released: 1998
Combo 8
The Notebook by Nicholas Sparks
Book Published: 1996 Movie Released: 2004
Combo 9
The Virgin Suicides by Jeffrey Eugenides
Book Published: 1993 Movie Released: 2000
Combo 10
White Oleander by Janet Fitch
Book Published: 1999 Movie Released: 2002
Combo 11
About a Boy by Nick Hornby
Book Published: 1998 Movie Released: 2002
Combo 12 - An Oldie But Goodie!
Gone With the Wind by Margaret Mitchell
Book Published: 1936 Movie Released: 1939
Combo 13
The Other Boleyn Girl by Philippa Gregory
Book Published: 2002 Movie Released: 2008

Combo 14
The Lovely bones by Alice Sebold
Book Published: 2002 Movie Released: 2009
Combo 15
Gone Girl by Gillian Flynn
Book Published: 2012 Movie Released: 2014
Combo 16
Hidden Figures by Margot Lee Shetterly 
Book Published: 2016 Movie Released: 2016
Combo 17
Room by Emma Donoghue
Book Published: 2010 Movie Released: 2015
Combo 18
The Twilight Series by Stephenie Meyer
Books Published: 2005-2008 Movie Released: 2008-2012
Combo 19
Something Borrowed by Emily Giffin
Book Published: 2005 Movie Released: 2011
Combo 20
The Girl on the Train by Paula Hawkins
Book Published: 2015 Movie Released: 2016
Remember the point of this type of meeting is to compare book and movie!
For even more excitement, try to plan reading the book around the movie's release in the theatres. Then you can have a book club field trip!
Have a great idea for a book and movie combo?  Let us know!
Finished up with this page?  Return to our home page to continue on your book club journey.  Or, jump to our BEST OF trBCQ list!