The book has been read, the group is ready to assemble and YIKES! You''re in charge of the book club entertainment.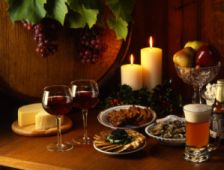 Picture this - a beautifully laid table, the roast duck simmering in the oven, red wine filling every glass each with their own little wine charm,…

OR
Picture this - you've read The Other Boleyn Girl and your guests arrive in costume, your mince meat pies are ready to serve…,
OR
Picture this - your guests are surprised with the addition of the movie version of your book into the night's plans….
The point I hope you are getting is that every member will have different book club meeting ideas for how to create their perfect atmosphere. 
Providing the entertainment that''s right for you can be figured out by covering the following topics:
Hosting the Meeting
Do you know the basics of hosting the meeting? When it is your book club month, a few simple tips will help you make the most of it. 
Book Club Menus
Will the menu you serve be a general menu? Or will it be a book theme menu? The range of book club menus you have to choose from is basically limitless! 
Reading Group Activities
Do you have a book and movie combination? Are you interested in making book favors for your guests?
Book Club Discussion
Are you prepared for the most important part of the evening -- the discussion?!  This is truly the HEART of book club.  If the discussion falls flat, you are just having a get-together (which is wonderful, but that's not your purpose in coming together this time!)  Going through the book club questions we have provided will help you have the right conversation starter ready to go!