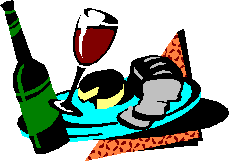 These book club menus are for those of you who want to prepare a fun and delicious meal, but don't have the extra time to follow a book theme or cook from scratch. That's okay! Your menu can be just as talked about at the end of the night as a themed menu if you pair the right things. We've put together a few favorites that will produce great results and won't take a long time to prepare. 
Each of the following general book club menus can be prepared using a recipe of your own or by getting the items pre-made at the store. 
Each menu option includes a suggested drink to compliment the meal. It is always a good idea to have water and soda on hand as well. As you get to know your members you can provide drinks specific to their likes and dislikes. 
Menu 1

Italian
Appetizer: Bruchetta with sliced Asiago or Romano cheese on the side

Salad: Caesar

Main Course: Lasagna with Garlic Bread

Desert: Canoli

Drink: Red Wine (for fall and winter try a Cabernet Sauvignon or Shiraz, for spring and summer try a Pinot Noir or Red Zinfandel)
Menu 2

Deli Platter
Appetizer: Pinwheels made with crescent rolls stuffed with cream cheese, sage, and bacon

Main Course: Deli Platter including 4 meats (turkey, ham, chicken, roast beef) and 4 cheeses (Swiss, American, cheddar, Monterey Jack). Platter should also include mustard, mayo, lettuce, pickles, onions, and tomato

Desert: Ice Cream Cake

Drink: Iced Tea
Menu 3

Kabobs
Appetizer: Port Wine Cheese Spread and Ritz Crackers

Salad: Asian Salad including sliced green onions, slivered almonds, and toasted sesame noodles

Main Course: Teriyaki Chicken Kabobs with green peppers, red peppers, onions, and mushrooms on each stick (you can choose to do Beef Kabobs or a combination of both)

Side Dish: Teriyaki Style Rice

Desert: Chocolate Chip Cookies

Drink: White Wine
Menu 5

Pizza
Appetizer: Toasted Raviolis

Main Course: Pizza (this can be ordered from your local favorite, store bought frozen, or built from scratch)

Salad: Tossed including carrots, black olives, mozzarella cheese, bacon bits, croutons, onions, tomatoes, and choice of dressing

Desert: Brownies

Drink: Coke or Pepsi