Names for Book Clubs

Put on your Creative Caps!
Who chooses names for book clubs right? I know you're thinking "I'm not 5 in kindergarten, I don't need to name my club."
Unfortunately you are thinking wrong!
When organizing a book club, the book club name you choose is vital to your success!

Any group that is successful whether it be the kindergarten reading group, the Red Hat Society Group, or your Book Club is successful because they create an identity. When people come together for a common goal, in our case to talk books, there is more of a camaraderie if you can refer to your group as something special.

So "Book Club" is not an appropriate book club name! That's just plain unoriginal!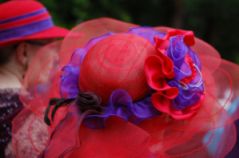 The inspiration for names of book clubs can come from many places. For example, my mom was in a club where all the women were Red Hatters. Their particular Red Hat group always met for happy hour and drank, you guessed it, red wine. Well they ended up finding a wine called Jest Red with a label that perfectly symbolized their personalities. When they formed a book club from their original Red Hat group, it was natural to begin calling themselves Jest Red. It is cute, fun, original, and special to those people.

When organizing your book club and deciding upon your book club name, here are some things to consider: 
What are the special interests of your group? Do you, like the example above, share other common hobbies or activities? 


When will you meet? I knew one girl in a book club who chose The Tuesday Nighters as their name because they were religious about holding their meetings on the first Tuesday of each month. 


Where do you live? My friend down at one of the Florida beaches belonged to a club with the name Shore Girls. Fitting for a beach town crew. 


How many members do you plan to have total? My group that decided to stay four called ourselves Just the Four of Us based on a popular sitcom from when we grew up (Just the Ten of Us) and we knew we weren't expanding.
Once you've answered these questions you're ready to think about actual names! For book clubs, it's always fun to get creative about using references to reading in your name.
My favorite is of course, the real book club queens!
 A couple of fun names for book clubs we've come across and loved:
Out of the house-wives 
Bookends
Cliff's Notes Gals (although we hope they are actually reading their books!) 
Teachers By Day
and my favorite...Superwomen...because aren't we all?!
Finished up with this page?  Return to our home page to continue on your book club journey.  Or, jump to our BEST OF trBCQ list!