Book Club Favors

"I made Wine Glass Book Club Favors a year ago, and we still bring them to every meeting!"

Why book favors?

Well, because - 

You've done everything else on the list to make your meeting an unforgettable one. 
Or maybe you haven't, and you're just crafty and want to give out cute favors. 
Either way, surprising the other members with little favors that are either book club, reading, or book topic themed is a fun way to end your hosting turn. 
And who doesn't love a great book club gift?
Book Club Favor #1: Refrigerator Magnets

What you need
A package of self adhesive magnets. You can find this at most craft stores. They are basically just a sheet of magnets with a backing that peels off one side so you can stick your creation to it.
Either a computer if you plan to do this digitally OR construction paper, good markers, and nice handwriting!
What you do
Come up with an idea for a favorite quote from the book OR a mini picture of the book cover you can print out.
For example, If you have just read Gods in Alabama you may choose to quote the powerful first line - "There are Gods in Alabama, I know because I killed one." Either type it up or write it out and then reproduce it for as many members as you have. The self adhesive magnets cut, so all you have to do is cut them out and give them to your group! Anytime someone opens their fridge they'll be reminded of your book.
*Note -- of course we know you can do this online at any number of personalization sites.  If you want to go this route because you are pressed for time, don't feel bad.  Do it!  This example is for the person who wants/likes to craft by hand; however, the book club favor is still an awesome treat, and how you go about creating it doesn't matter as much as the thought behind it! *
---
Book Club Favor #2: Book Club Key Chains

What you need
Blank Acrylic Key rings for Photo Inserts. Found at most craft stores. These are key rings that are empty with a clear front and a slot so you can slip a piece of paper in between the plastic.
Either a computer if you plan to do this digitally, OR construction paper, good markers, and nice handwriting!
What you do
Come up with an idea that deals either with book clubs or your book specifically.
For example, You can follow the above craft idea if you want to get book specific. My example this time will be based on the book club in general.
Plan to take a group photo at the meeting prior to the one you host. Make sure you get a good one! Make copies (making sure they fit in the keychain which you can buy in various sizes). Think of something fun to put on the back. One of my book clubs used to always say "It was Fabulous!" so I put just that on the back of my keychain favor. It was a smash hit!
*Note -- see box 1*
---
Book Club Favor #3: Bookmarks
Bookmarks are ALWAYS a favorite, but if someone else has already given them out for a different reason (when they unveiled their book choice, for example), you might not want to duplicate their crafty idea!

What you need
Card stock computer paper. You can get it in many different colors at any store that sells poster board.
What you do
I think bookmarks are more fun handmade but of course you can do this on your printer as well.
Instead of making one size fits all bookmarks, tailor them to each member of your group. Vary the color of cardstock you use for each bookmark. Decorate with ideas, quotes, thoughts that are specific to their personality.
For example, I did this in my smallest book club (of 4 including me) so I knew the other members pretty well. I based each one on the girl herself. 
One was light blue with moons and stars. She was a new mom so I quoted one of her favorite little one books Goodnight Moon using the quote "Goodnight stars, Goodnight air, Goodnight noises everywhere!"
The second was purple with lots of cute shoes. I quoted Nancy Sinatra's song These boots are made for walking, and that's just what I'll do, one of these days these boots are gonna walk all over you! Long story but she LOVED it!
The third was yellow with apples. She is a teacher and a very good one who loves her job passionately. I quoted Gail Godwin who said "Good teaching is one-fourth preparation and three-fourths theater."
This was BY FAR my most successful book club favor. Yes I know there were only three people to craft for, but it was so worth it and I'll definitely do it again. Once you get to know your group that well it's awesome to give a gift mirroring their personality. I highly recommend it!
---
Book Club Favor #4: Drink Glass of Choice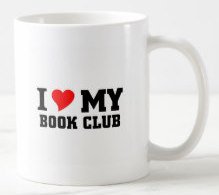 What you need
Choose the drink of choice for your group. If a glass of wine during the meeting is a staple, get clear wine glasses. If coffee is your thing, get blank white coffee mugs. Both of these can be found at any Dollar store. Get one for each member of the group including yourself!
Acrylic paints or puffy paints, whichever you prefer.
What you do
Decide on a cool quote about reading or friends. You can also ALWAYS tailor your projects to your specific book.
For example, I'm going to give you two of my favorite quotes. I don't give these out freely, so please use them!
About reading - "I have always imagined that Paradise will be a kind of library." -Jorge Luis Borges
About friendship - "Friends are the Family I choose for myself." -unknown
As creatively as you possibly can inscribe your glass of choice with one of these quotes (or any other one you want of course!)
Give them to your group and tell them to bring their glass to each meeting. They will LOVE this! It creates a bond between group members.
* Note -- see box 1*
---
Finished up with this page?  Return to our home page to continue on your book club journey.  Or, jump to our BEST OF trBCQ list!