Book Club Food

What could be better than serving up great book club food and fantastic discussion at your book club meeting?

Book Club Recipes are for Sharing!
Tips from our readers...

Cary from Myrtle Beach -
Always stock up on wine - White and Red.

Chelsea from Florida -
Brownies in a box are great in a pinch!

Hati from London -
Gourmet Coffee served with Vanilla Chocolate Chips - Decadent!

Kelly from Australia -
Keep it simple. There are so many quick, but yummy, recipes out there!

Manda from Ohio -
Give me a crock pot, and I'll give you a meal!

We like food, the cooking AND the eating part, almost as much as we love reading! Possibly the most essential thing to your book club meeting besides a good book discussion is the book club food. 

In a world full of recipes it's hard to sort out the ones worth trying, but we're doing it! All of the following are homemade by various friends and family who have been kind enough to share their kitchen classics with us.
Our tried and true book club classics are recipes (with some really funny pictures of our first try for one) that we know you''re book group will love.  Happy Cooking!

Granddad's Mexican Cornbread
Book Club Food Recipe 1
This makes a 8 X 8 pan of delectable cornbread.

In a bowl, mix together these ingredients
1 cup cornmeal

1/2 cup flour
2 tsp baking powder
1 tsp baking soda
2 tbsps of Lipton Golden Onion soup mix
1 cup grated sharp cheese
1 cup grated Monterey jack cheese
1/2 cup minced yellow onion
In a separate bowl, mix together these ingredients
4 beaten eggs
1/4 cup vegetable oil
8 oz (cup) sour cream
small can creamed corn
Blend liquid ingredients into the bowl of dry ingredients.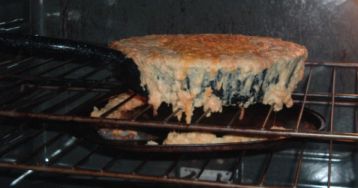 Queenie attempts Mexican Cornbread for the first time!
Grease the pan. Add batter to pan and sprinkle top with grated cheese. Cook at 350 degrees for 40 minutes uncovered. Test with knife to be sure bread is done.
Side note: This cornbread is even better (gets nice and crusty) if you use an iron skillet instead of regular pan. To do this you would butter and heat the skillet at 350 in the oven, then add the batter and bake for 40 minutes.
John's Shrimp Di Oro
Book Club Food Recipe 2
Appetizer for 4 people.

Ingredients
1 lb (16/20) Shrimp, peeled and de-veined but leave tail on
1 cup Olive Oil
1 cup Vegetable Oil
1 cup All Purpose Flour
3 lemons
1 sprig of Fresh Parsley
A pinch of salt
A pinch of pepper
Combine Olive Oil and Vegetable Oil in a 10 inch sauté pan. Heat over medium-hi heat for 15 minutes.
Cover each individual shrimp in flour. Be sure to shake off excess flour. Once oil is heated, place shrimp in oil turning occasionally until golden (1-3 minutes). Remove shrimp and place on paper towel to soak up remaining oil. While the shrimp is hot, dash with pepper and salt. 
Place shrimp on platter. Cut Lemon in half and squeeze over all shrimp (don't drop the seeds!). Take 2 remaining lemons, quarter them and spread around the rim of the plate. Garnish plate with sprig of parsley in middle.
Alicia's "De-liche" Hot Chicken Salad
Book Club Food Recipe 3
This makes two 13x16 pans so you can always cut the recipe in half if you have a small group.

In a bowl, toss these ingredients

9 cups of toasted bread (cut into little pieces)
12 cups of diced chicken
9 cups of celery
32 oz of sharp shredded cheddar cheese
1/4 cup of chopped onion
4 and 1/2 cups of mayonnaise (add some apple cider vinegar to thin the mayo which gives it a tangy taste, probably about 3 tablespoons for 4 1/2 cups)
salt to taste
Top with Italian bread crumbs. Bake at 350 until hot.
Max's Mexi-Peppers
Book Club Food Recipe 4
Serving is for 4 people. Double if necessary.
Ingredients
4 Red Peppers that can stand alone on their base side
1 and ½ lbs Boneless, Skinless Chicken Breast
2 packages Spanish Rice (Lipton, Rice-a-Roni)
1 block of Velveeta
1 medium Yellow Onion, diced
Salt, Pepper, Garlic Powder, Hot Sauce
Season chicken with salt, pepper, garlic powder. Bake at 350 for 30 minutes. Cube chicken when done.
Make rice according to package directions. Cube Velveeta block. 
Mix cubed chicken, rice, Velveeta, and onion in large mixing bowl. Season to taste using pepper, salt, garlic powder, and hot sauce.
Lay each pepper on it's side. Cut pepper horizontally, ½ inch down from stem (think about how you take the top off to carve a pumpkin). Remove seeds from inside of pepper. Cut out the green stem from the top piece. Using an ice cream scoop, pack each pepper full of mixture. Stand each pepper up on baking sheet. Place cut pepper top over the stuffed pepper. Don't worry, you can't overstuff! 
Bake at 350 for 1 hour.
Best Bruchetta Recipe
Book Club Food Recipe 5
Serves 8 people.

Ingredients

4 Beefsteak Tomatoes
1 medium Yellow Onion, finely diced
4 tbsp Minced Garlic
¼ cup Red Wine Vinegar
Fresh Basil, chopped
1 Italian Bread Loaf (or French Baguette if you prefer)
¾ cup Extra Virgin Olive Oil
Salt, Pepper, Garlic Powder
Take the core out of the tomatoes. Cut the tomatoes into quarters. Remove seeds with spoon. Finely dice tomatoes.
Combine tomato, onion, garlic, olive oil, red wine vinegar, and basil in large mixing bowl. Mix gently but thoroughly. Salt and Pepper to taste. Refrigerate at least one hour. 
Cut Italian Bread Loaf into ½ inch thick slices. Arrange side by side on baking sheet. Brush tops generously with olive oil. Season lightly with salt, pepper, and garlic powder. Bake at 400 for 5 minutes, until bread tops are crispy.
Plate the bread, top with tomato mixture. Serve immediately.
Alabama Fried Chicken
Book Club Food Recipe 6
Serves 6 people.

Ingredients
2 lbs Boneless Chicken
2 cups Self Rising flour
1 cup Buttermilk
3 tsp salt
oil, for frying
large amount of love
Take your chicken and cut away all the fat leaving only the good meat. Wash, and let drain.
Put buttermilk and 1 tsp salt in one bowl. Put flour and 2 tsp of salt in another bowl sprinkle it good with love.
Take 1 piece at a time and dip in buttermilk then place in flour and thoroughly coat.
Heat oil on medium-hi heat in frying pan. Once oil is hot start frying a few pieces at a time.
After frying let stand for 10 minutes, sprinkle with more love, then serve and enjoy!
Vicki's Scrumptious Mac & Cheese 
Book Club Food Recipe 7
Serves 6-8 people.

Ingredients
5 eggs
4 cups canned milk
1/2 tsp vanilla 
6 1/2 cups cooked macaroni
20 oz. sharp cheddar cheese
2 tsp yellow food color
butter
salt and pepper
Beat eggs, milk, vanilla, food color, salt and pepper together. 
Stir in macaroni and 12 oz of cheese. Mix well, then pour into 9 X 13-inch pan. Top with butter. 
Place foil over top and bake at 375 for 2 hours. Take out and top with and additional 8 oz cheese and brown.
Return to Menus main page.