A Mystery Book Review Club...
And a Twist!

All you whodunit mysteries fans - get ready! A mystery book review club might be just the thing you''re looking to start!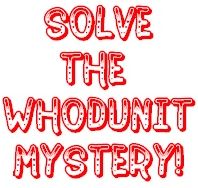 Who doesn't love a good mystery and suspense book? Whether it''s your favorite genre, or what you read when you need to take a break from the drama, creating a club based on this genre will keep you able to solve the whodunit with no problem! 

How to Start a Mystery Book Review Club
Find 3 other people who love mystery, murder, suspense, and thrills. The murder mystery book club is not for the faint of heart! 
Note: This style club is geared towards mystery, not to be confused with psychological thrillers.
Follow the book club guidelines to set up your meeting hosting schedule, and for all other general rules relating to starting a book club.
Read your book but don't spoil it for each other by talking about it before your meeting!
Mystery books/series list
The Secret Place by Tana French
The Cuckoo's Calling by Robert Galbraith
In Cold Blood by Truman Capote
The Daughter of Time by Josephine Fey
The Eye of the Beholder by Marc Behm
A Murder in Time by Julie McElwain
How to Host a Mystery Book Review Club
Choose a book from one of the popular mystery book lists. My personal favorites are Kay Hooper, Perri O''Shaungnessy, and Janet Gleeson. These are especially good authors if you''re interested in keeping up with a particular character or time period. 

OR


Choose a mystery author. Read 4 books by that author. Discuss three main topics - (1) Did each book have it''s own twist? (2) Were you able to guess the outcome by the fourth book because they were all so similar? (3) What set this mystery writer apart from others? 

OR


Choose a type of mystery. For example - time period mystery, thriller, murder, supernatural - and have each member read one book of this type. At your meeting give out mystery book awards to each book. Switch the books around. Keep this set until everyone in the group has read each book. Then have a meeting to discuss the positive and negative points of each. 

Add a Twist...
Want to do something REALLY unique?!  Host a murder mystery dinner party game!  Since your group most likely formed because you all like to solve the 'whodunit' mystery, this will be a great experience!
Note: This type of meeting is meant to happen about one in every four months (or an agreed upon time frame).  They are too fun to pass up, but definitely a LOT more work than your traditional book club meeting.
How to Host the Murder Mystery Dinner
Your meeting will start off with a quick discussion of your chosen book. However, due to the style of meeting, your discussion will be short and sweet. 
Here's where the fun starts!