Book Clubs for Kids
~ My Family Favorites

"I came here to find information about book clubs for kids, and I was thrilled with what I found!"

I'm not going to rate these favorite children books like we do with the adult picks. If it's on this page - it's worth reading to your child! 
Books are listed in alphabetical order, and include a quick summary so you can decide if it's a good book clubs for kids' pick.
Please note -- these book picks are all geared towards an EARLY readers book club.  Please see our general kids book clubs guidelines for further information.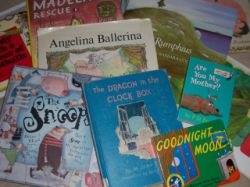 Angelina Ballerina by Katharine Holabird. Illustrations by Helen Craig. 1982.
Little mouse Angelina loves to dance. She dances all the time and everywhere she goes, often forgetting to do her chores! Her parents are exasperated, so they come up with a plan to solve Angelina's problem!


Be Nice to Spiders by Margaret Bloy Graham. 1967.
Helen the spider moves into the Zoo and quickly rids all the animal cages of flies. The Chief Keeper does not like the spider webs clogging up his cages, so he orders his assistant to get rid of the spiders! This starts a horrible chain of events in the Zoo that the Chief Keeper must figure out and solve.


Cloudy With a Chance of Meatballs by Judi Barrett. Illustrations by Ron Barrett. 1978.
Grandpa''s Saturday morning pancake flipping inspires a truly tall tale about a town who gets their food from the sky! Things take a turn for the worse when it begins to rain nothing but cheese all day long!


The Dragon in the Clock Box by M. Jean Craig. Illustrations by Kelly Oechsli. 1962.
Joshua is carrying around a clock box with mysterious contents. He simply tells his family it's "waiting for it to be time." Eventually Joshua's mysterious thing hatches and what he does with it is a surprise to his family.
Goodnight Moon by Margaret Wise Brown. Illustrations by Clement Hurd. 1947.
A short and sweet way to say goodnight to your little ones. Be sure to look for the mouse on each color page! 
Miss Rumphius by Barbara Cooney. 1982.
The Lupine Lady once was a little girl named Alice. Her grandfather tells her she "must do something to make the world more beautiful." As she grows, she becomes a world traveler. Eventually she figures out what she will do to make the world more beautiful.


The Snoops by Miriam Moss. Illustrations by Delphine Durand. 1997.
The Snoop family lives at number nine Keyhole Place. They spend all their time spying on their neighbors and finding out everybody's dirty secrets! See what happens when the neighbors decide to snoop back.

The Very Hungry Caterpillar by Eric Carle. 1969.
A great book for beginners! Very beautiful, colorful pictures of a little caterpillar who eats his way into becoming a gorgeous butterfly!
Return to Kids Book Club main page.